A few months ago, GOD directed us to approach the Seder Experience differently this
year. HE charged us to change from bringing a presentation to HIS people, to

equipping them to personally prepare for and enter into HIS Feast.
We are excited for this direction and invite you to encounter the Seder Experience in a
more personal and intimate way.
YOU ARE INVITED to experience a personal encounter at the LORD's Supper when
you participate in the unveiling of each of the elements from the Master's table.
Who: YOU hosting your family, your friends, your church family, or anyone you desire
to invite
What: Pesach/Passover – GOD's appointed time
Where: Hosting in your home, your small group gathering, your local church, or you
place of choice
When: Join us via live stream on Saturday March 27 at 6:00 PM Central
Standard Time
Why: To understand why YESHUA (JESUS) said, "Do this in remembrance of me."
Link with other families, like yours, around the world as we honor GOD and celebrate
together!
LET'S PREPARE – it's simple!
Simple preparations.
Simple recipes.
6 simple elements for the Seder plate.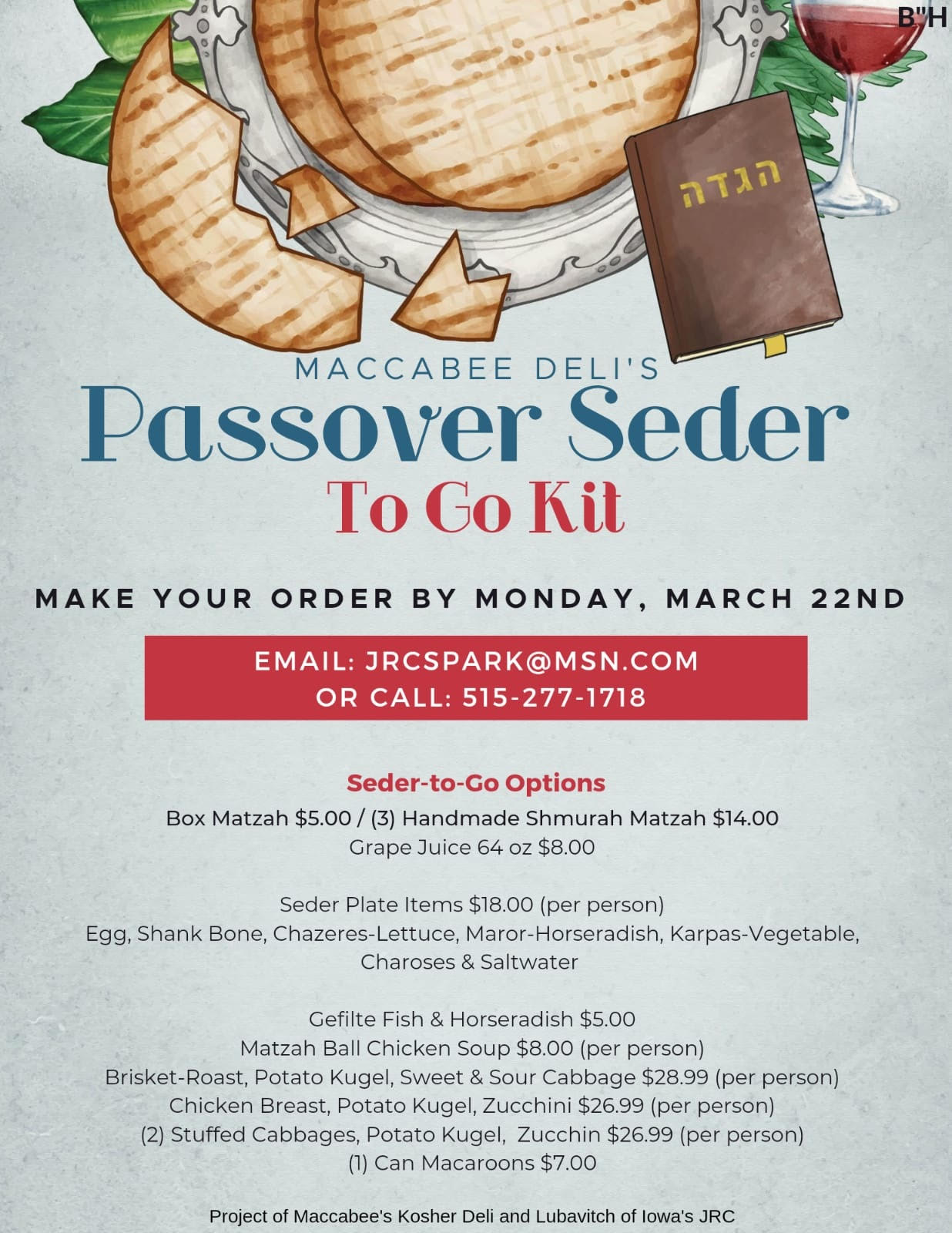 Local to the Des Moines Area
We also want to make you aware of a great resource if you are in the local area. Maccabees Kosher Deli is now offering
Passover Seder To Go kits to provide all the elements you need for the Seder! See information below and contact via email
[email protected] or call 515-277-1718 and place your order by Monday March 22nd.
Downloadable Information for the Seder
Hosting and Customization
Check out our tutorial to help you connect your device to the Live Stream.